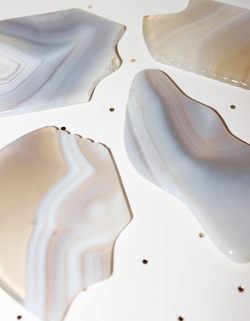 Agate is a translucent microcrystalline quartz that has the ability to soothe and calm the skin. In general, Agate heals the eyes, cleanses the lymphatic system and the pancreas, strengthens blood vessels, and heals skin disorders.
Use daily to:
• Promote blood circulation
• Improve fine lines and wrinkles
• Relieve muscle tension
• Promote lymphatic drainage and detoxification


Please note: your Agate Gua Sha will come in various colors and shapes.